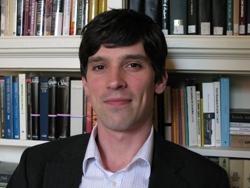 Matthew Garrett's writing and teaching concern the relationship between literary form and social history. His book, Episodic Poetics: Politics and Literary Form after the Constitution (forthcoming from Oxford University Press in 2014), traces an early American and transatlantic culture of the episode across the period's major genres of prose writing — from wildly plotted novels to peculiarly constructed memoirs and linked serial essays. The book shows how, in ways both magisterial and mundane, social and political conflicts took variegated shape in a literary culture founded upon the episode, that omnipresent narrative unit so often taken for granted by writers and readers. The result is literary history recounted not as the easy victory of grand nationalist ambitions, but rather as a series of social struggles expressed through writers' recurring engagement with incompletely integrated forms.
Professor Garrett's recent essay projects include studies of the relationship between the money form and the emergence of the notion of "career" in Benjamin Franklin's Autobiography; of ideas about social competition in relation to the political economy of mothering in the eighteenth century; and of the way serialized histories in the 1780s produced an account of the American Revolution as a "pseudo-revolution." His work appears or is forthcoming in American Quarterly, ELH, the Journal of Cultural Economy, and Radical History Review. He teaches courses on American literature and literary theory, including courses on the literature of revolution, transatlantic poetry and poetics, the novel, and narrative theory.
Professor Garrett has received fellowships from the American Council of Learned Societies, the Library Company of Philadelphia, the American Antiquarian Society, and the McNeil Center for Early American Studies at the University of Pennsylvania. He was awarded the Alden Prize for most distinguished dissertation in the English Department at Stanford University and has taught at Wesleyan since 2008.
Matthew Garrett's lecture, "Reading after the Picaro," at the Wesleyan Center for the Humanities.
Matthew Garrett's "In Theory" lecture on V.I. Lenin.
Matthew Garrett in conversation with David Kazanjian.