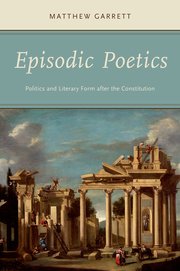 Books
Editor, The Cambridge Companion to Narrative Theory (Cambridge University Press, 2018).
Episodic Poetics: Politics and Literary Form after the Constitution (Oxford University Press, 2014).
Articles
"You Have To Read First." American Literary History 29.1 (Spring 2017): 142-155.
"An Imperial Syllabus." History and Theory 55 (May 2016): 302-313.
"Subterranean Gratification: Reading after the Picaro." Critical Inquiry 42.1 (Autumn 2015): 97-123.
"History with a Capital H." Radical History Review 118 (Winter 2014): 197-203.
"The Self-Made Son: Social Competition and the Vanishing Mother in Franklin's Autobiography." ELH 80.2 (Summer 2013): 519-542.
"The Romance of Real Politics." American Quarterly 64.4 (December 2012): 795-798.
"The Liquid Life: Money and the Circulation of Success after Franklin." Journal of Cultural Economy 4.3 (August 2011): 315-328. Reprinted in Brad Pasanek and Simone Polillo, eds., Beyond Liquidity: The Metaphor of Money in Financial Crisis (Routledge, 2013).
Single-Title Book Reviews
David Scott, Omens of Adversity: Tragedy, Time, Memory, Justice (Durham, N.C.: Duke University Press, 2014). e-misférica 12.1 (2015).
Mark Rifkin, Settler Common Sense: Queerness and Everyday Colonialism in the American Renaissance (Minneapolis: University of Minnesota Press, 2014). Journal of the History of Sexuality 24.3 (September 2015).
Christopher N. Phillips, Epic in American Culture: Settlement to Reconstruction (Baltimore, Md.: Johns Hopkins University Press, 2012). Journal of American Studies 49.3 (August 2015).
Robin Peel and Daniel Maudlin, ed., Transatlantic Traffic and (Mis)Translations (Durham: University of New Hampshire Press, 2013). Early American Literature 49.3 (Winter 2014): 803-807.
Other Publications
"Panther Power, Dual Power?" Forthcoming in Against the Current.
"Anti-Imperialist Dreamwork." Review of Alex Lubin, Geographies of Liberation: The Making of an Afro-Arab Political Imaginary (Chapel Hill: University of North Carolina Press, 2014). Against the Current 173 (November-December 2014): 32-33.
"You Can't Kill a Revolution." Review of Joshua Bloom and Waldo E. Martin, Jr., Black Against Empire: The History and Politics of the Black Panther Party (Berkeley: University of California Press, 2013). Against the Current 168 (January-February 2014): 34-35.